Made in France

Citroën
5 year warranty Waterproofing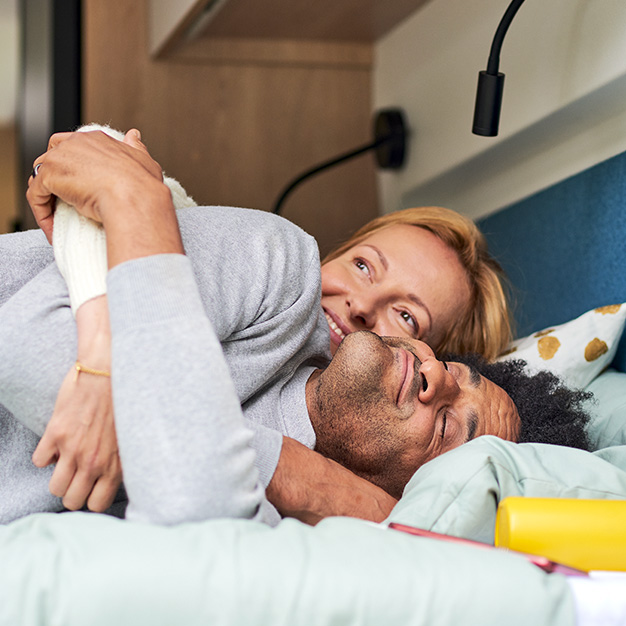 A wonderfully cosy nest
Measuring 6.63 metres long, the Joa 63T comes with large twin beds. Tall people will love this layout. If you want to sleep closer to your partner, add the optional bed insert to create a generous double bed.
Travelling without compromise
Choosing the 63T also means having plenty of storage space. With an optimised design, you will benefit from numerous cupboards in each space: a large overhead cupboard in the living room, and other clever spaces, 5 storage spaces in the kitchen, 4 overhead cupboards in the bedroom and a very large hold. So you can pack your things with peace of mind.
Comfort and insulation
Thermal and acoustic insulation was a key focus for our design teams, to enable you to travel comfortably year round. Enjoy high quality fittings with market-leading XPS insulation in the walls and floor (45 mm), Truma heating, and frost-free water and gas systems.
Solid, durable bodywork
Made with quality materials: plywood furniture for greater durability. Everything used to create and fit out our Joa campervans has been carefully selected to deliver the best value for money. The bathroom has a leak-proof design and removes the need for a shower curtain. Enjoy quality and comfort! A watertightness test is performed on each Joa as it exits the production line. This is a powerful test that checks the entire vehicle's watertightness. When you choose a campervan, you get a robust steel chassis and numerous vertical and horizontal bodywork braces. That makes it harder to dent your bodywork.
Shall we give you a tour?