Made in France

Citroën
5 year warranty Waterproofing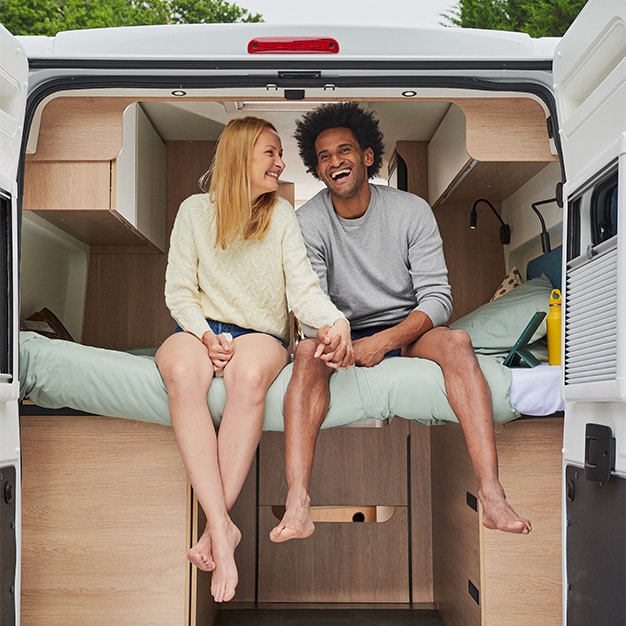 A wonderfully cosy nest
Designed on the basis of the most popular layout, the 60G is equipped with a quality Truma 4 heater and very good insulation made of aluminised polyester fibre. The clean water tank inside the van benefits from this insulation when temperatures are low. You can rest assured that you will be able to travel all year round, as this van is Class 3 certified, obtained after a cold room test.
Real driving comfort
All over Europe, you can find the most popular van. It guarantees you a good holiday but also a real pleasure to drive. You are guaranteed the latest safety equipment with the latest generation Citroen chassis: driver and passenger airbags, cruise control and speed limiter, ABS - anti-lock braking system, electric defrosting mirrors with 2 wide angle mirrors and blind spot, ESP, central locking and electric front windows. Have a nice drive!
Comfort and insulation
In summer, autumn, winter or spring, stay comfortable thanks to the impressive acoustic and thermal insulation: double-glazed windows, 45 mm floor with market-leading XPS insulation, and Truma heating. Rounding out these high quality fittings, we have installed aluminised polyester fibre in all bodywork, wheel housings and doors.
Solid, durable bodywork
Made with quality materials: plywood furniture for greater durability. Everything used to create and fit out our Joa campervans has been carefully selected to deliver the best value for money. The bathroom has a leak-proof design and removes the need for a shower curtain. Enjoy quality and comfort! A watertightness test is performed on each Joa as it exits the production line. This is a powerful test that checks the entire vehicle's watertightness. When you choose a campervan, you get a robust steel chassis and numerous vertical and horizontal bodywork braces. That makes it harder to dent your bodywork.
Shall we give you a tour?